Headlines
Nepal Plane Crash, 40 People were Killed. There were 5 Indians Among 15 Foreigners in the Crashed Nepal Plane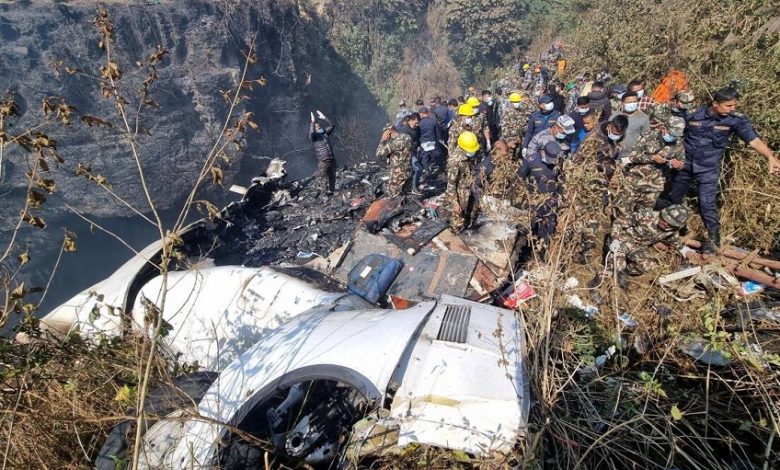 Nepal Plane Crash: At least 40 people were killed on Sunday when an aircraft of domestic carrier Yeti Airlines crashed in Pokhara, a Nepal aviation authority official said.
At least five Indians were on board the Yeti Airlines plane that crashed in Nepal's Pokhara this morning, the country's Civil Aviation Authority has confirmed in a tweet. The Nepali passenger plane was carrying 72 people, including 10 foreigners, when it crashed into a river gorge while landing at the airport in Pokhara – a major tourist destination in the Himalayan nation.
The twin-engine ATR 72 aircraft operated by Yeti Airlines was en route from the capital Kathmandu. There were 72 people on the twin-engine ATR 72 aircraft operated by Nepal's Yeti Airlines, including two infants, four crew members and 15 foreign nationals, said airline spokesman Sudarshan Bartaula.
Air accidents are not uncommon in Nepal, home to eight of the world's 14 highest mountains, including Everest, as the weather can change suddenly and make for hazardous conditions.
Nepal Prime Minister Pushpa Kamal Dahal has called an emergency cabinet meeting after the plane crash, a government statement said.
Yeti Airlines:
Yeti Airlines Pvt. Ltd. is an airline based in Kathmandu, Nepal. The airline was established in May 1998 and received its Air Operators Certificate on 17 August 1998. Since 2019, Yeti Airlines is the first carbon neutral airline in Nepal and South Asia.  It is the parent company of Tara Air. As of 2021, Yeti Airlines was the second largest domestic carrier in Nepal, after Buddha Air.
Yeti Airlines was established by Ang Tshering Sherpa in May 1998 and received its Air Operators Certificate on 17 August 1998. It started operations with two de Havilland Canada DHC-6 Twin Otters.
In 2009, Yeti Airlines established the subsidiary Tara Air to which it outsourced its STOL operations to airports in the rural and mountainous airports in Nepal and transferred its respective aircraft, DHC-6 Twin Otters and Dornier 228s to Tara Air. Yeti Airlines and Tara Air combine to form the largest domestic airline in Nepal; the group has more than 60% of the total market share as of January 2008.Together, Yeti Airlines and Tara Air have the widest domestic flight network of any Nepali airline and fly to most destinations in Nepal.
Also Read: IIT Jodhpur's School of Management and Entrepreneurship (MBA Program) has invited applications