Blog
The Most Beautiful College Campuses In India
College campuses are usually larger than schools and have multiple departments where students can study courses of their choice. You'll find libraries, labs, playgrounds, cafeterias (bigger and better than your school canteen) and most of all, plenty of space to move around the campus after your classes are over.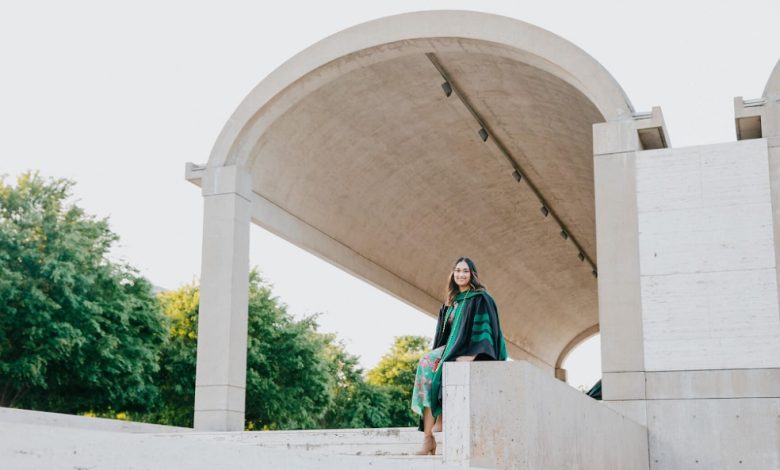 College life is one of the most wonderful phases we come across. The 2-4 years of college life is something we all cherish. College campuses are usually larger than schools and have multiple departments where students can study courses of their choice. You'll find libraries, labs, playgrounds, cafeterias (bigger and better than your school canteen) and most of all, plenty of space to move around the campus after your classes are over.
While we know that education and faculty play a significant role in deciding the rankings of colleges and universities nationwide, even the campus architecture, facilities and location act as a catalyst.
If you are wondering which the most beautiful college campuses are, then we have compiled a list of 10 most beautiful college campuses in India.
IIM Kozhikode
Located in Calicut, Kerala is the beautiful Indian Institute of Management (IIM) which is one of the most sought after colleges in the country! This campus is spread over 111 acres. Beautiful mountain views in the backdrop, soul-satisfying greenery all around, and striking infrastructure are just a few of the many remarkable features that make this institute truly outstanding! There are 17 hostels on campus, which gives us an idea of ​​how huge it is! Not just this, it also has an in-house museum for its students.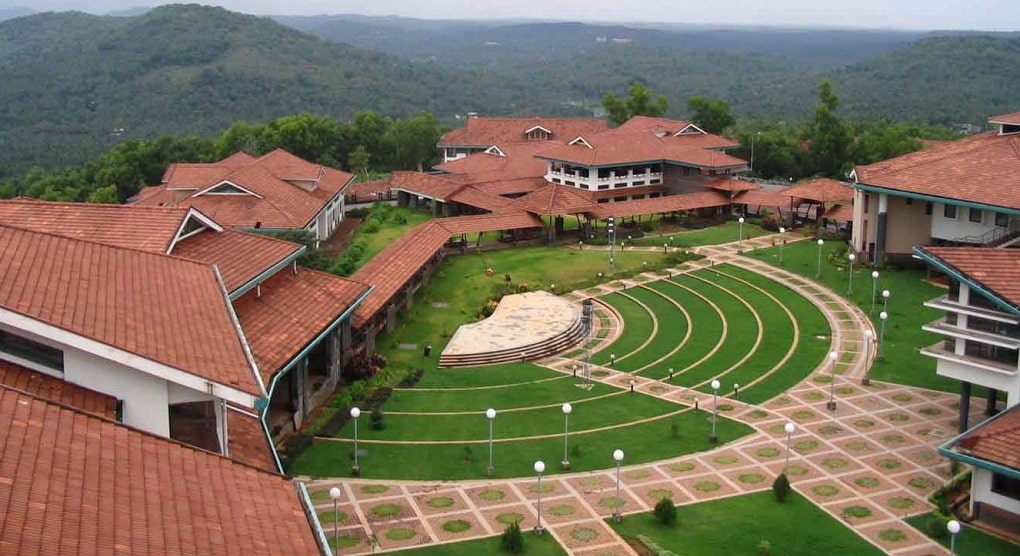 2. IIT Guwahati
Indian Institute of Technology Guwahati's campus is on a sprawling 285 hectares plot of land on the north bank of the river Brahmaputra around 20 kms from the heart of the city. With the majestic Brahmaputra on one side, and with hills and vast open spaces on others, the campus provides an ideal setting for learning. IIT Guwahati has been able to build up world class infrastructure for carrying out advanced research and has been equipped with state-of-the-art scientific and engineering instruments.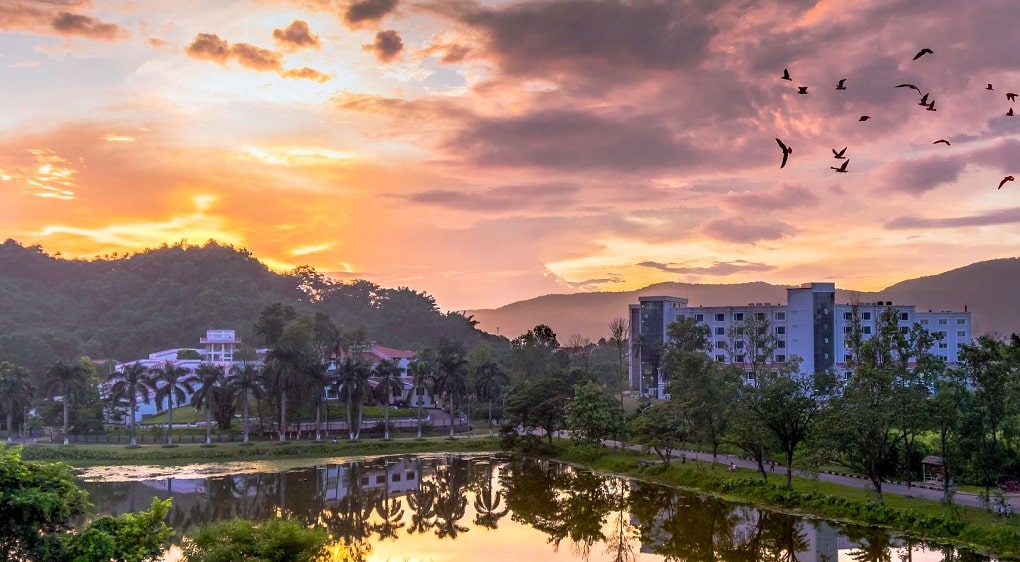 3. NIT Srinagar
When the city itself is so beautiful, it is no wonder why NIT Srinagar is ranked among the most beautiful college campuses in India. The snow covered lanes, beautiful hills and the banks of world-famous Dal Lake, with the far-famed Hazratbal Shrine on other side of the campus. There are four Boys and one Girls hostel which swallops about 1500 boys and 200 girls.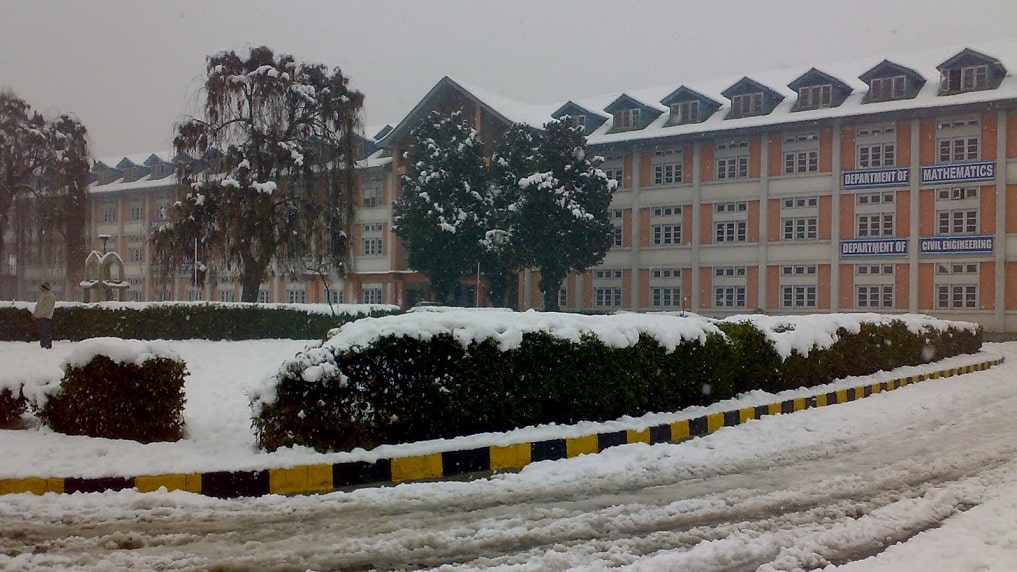 4. Forest Research Institute Dehradun
Established way back in 1868 and today one of the most exclusive advertisements of India, the Forest Research Institute in Relate is absolutely beyond beautiful! Built over 450 acres of land, the coaches overlooking the Himalayan ranges feature in the architectural style of this popular institute. In fact, you will be surprised to know that it has been recorded in the Guinness Book of Records as the world's largest net layer structure for a very long time.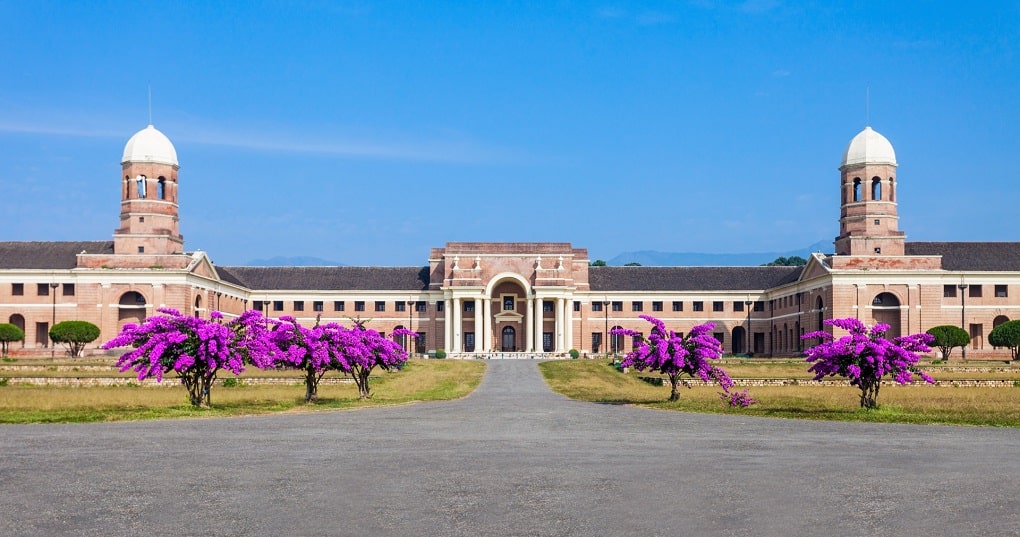 5. St. Xavier's College Mumbai
When you come to know that this college has been featured in several blockbuster Bollywood movies including 'Main Hoon Na', 'Jaane Tu Ya Jaane Na' and 'Rockstar', you know there must be something spectacular about its presence ! St. Xavier's College in Mumbai has Indo-Gothic architecture, stands on 2.94 acres of land, and is recognized as a heritage structure by the Mumbai Heritage Conservation Committee. Apart from classrooms, it houses a spacious auditorium, a canteen, prayer rooms, playgrounds and courts, library, audio-visual center and a lot more which makes this institute worth all the hype! While we kick it off with the movies shot here, to conclude we have some of the people from India including Salman Khan, Neerja Bhanot, Zakir Hussain, Anil Kapoor, Azim Premji, Freida Pinto and Vidya Balan, who have done graduated from here.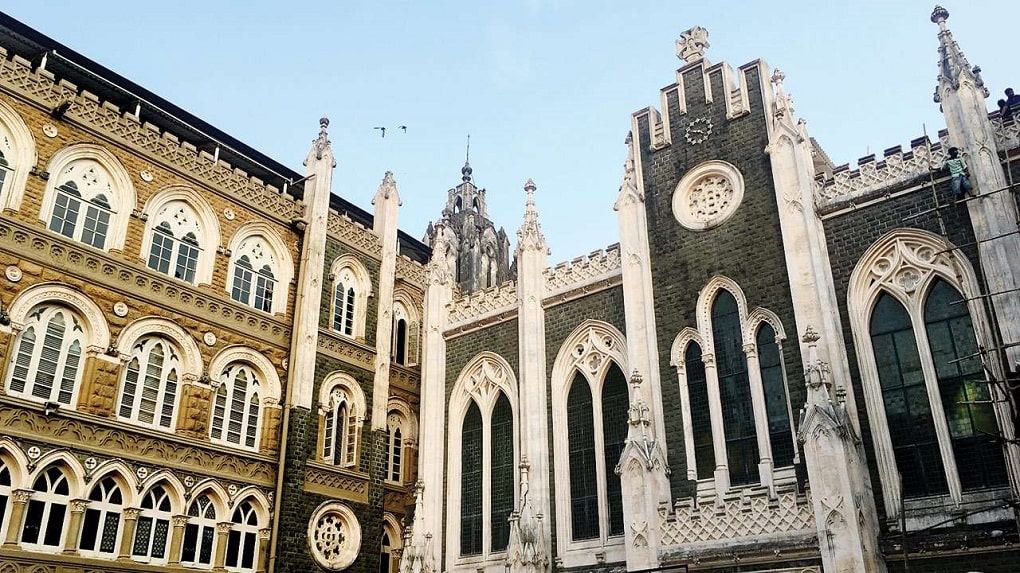 6. Indian Institute of Science (IISc) Bangalore
Located in North Bangalore, the Indian Institute of Science (IISC) has over 40 department icons including Arjun Marg, Gulmohar Marg, Badami Marg, Ashoka Marg, and others. The campus has six canteens, a gymnasium and sports complex, a cricket and a football field, large site mess, an in-house multi-cuisine restaurant, an airstrip, two shopping centers and rectory for students, faculty and staff members. It also shelters both indigenous and exotic species of flora that inhabit the institute and more. The architecture of the complex is fine, consisting of towers and sculptures, making it one of the most beautiful.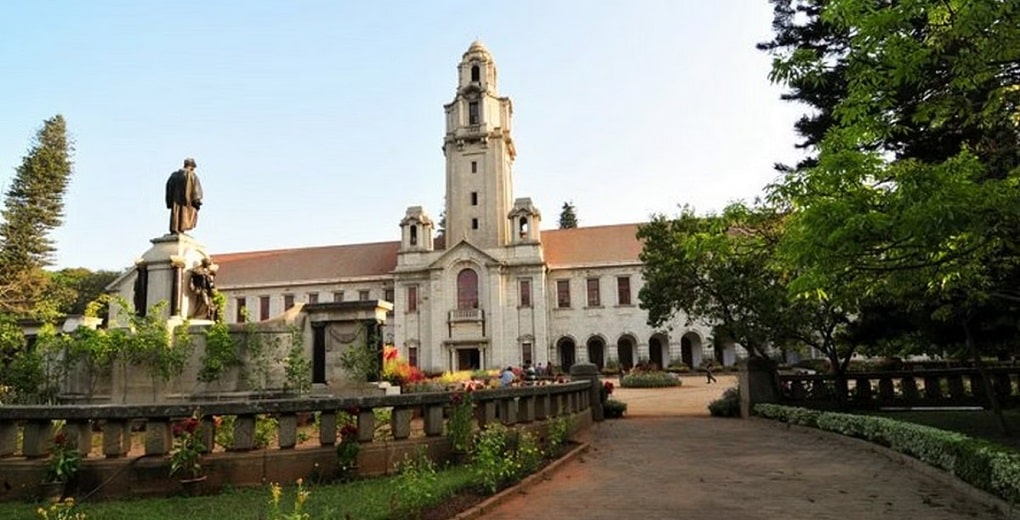 7. IIT Roorkee
At first, you might find it a museum or a hotel but what you see above is one such college which is usually on the radar of every aspiring engineer. Featuring white buildings completely drenched in lush green and grandeur, the Indian Institute of Technology (IIT) in Roorkee is one of the popular names when it comes to the most beautiful college campuses in India. The campus has 16 hostels, of which two (Sarojini, Kasturba ) are occupied by girls. The campus has a new co-ed hostel, Vigyan Kunj. Hostels may accommodate undergraduate and graduate students along with doctoral students. Each bhawan has a mess.
8. ISB Hyderabad
Apart from its notable academic programmes, the Indian School of Business (ISB) also garners a lot of love and attention for its attractive campus! It was established back in 2001 and designed by Vikram Lal, who has several extraordinary landmarks to his credit including the Akshardham Temple in Delhi. It is spread over 260 acres of lush green land and has an academic centre, recreation center and four student villages which can accommodate more than 150 students. In fact, 80% of the shooting schedule of Vivekhotri's autobiographical film 'Buddha in a Traffic Jam' starring Anupam Kher and Arunoday Singh has gone to this beautiful complex.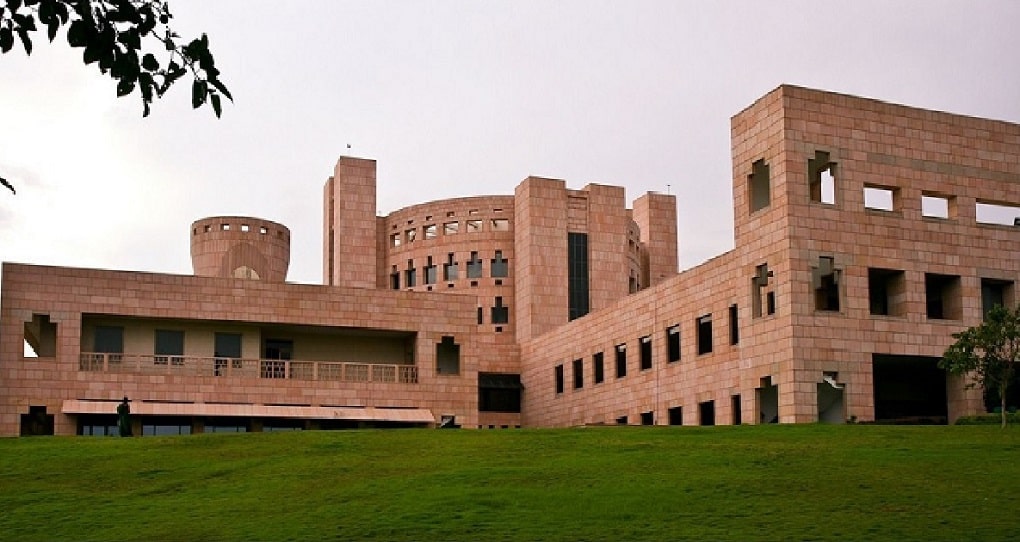 9. Birla Institute of Technology & Science (BITS) Pilani, GOA.
BITS Pilani Goa, located on the banks of Zuari River in Goa, has been designed by RSP Design Group. The college comprises a BCCI-accredited cricket ground maintained by the Goa Cricket Association, a football ground maintained by Salgaokar FC and other sports courts that feature state-of-the-art facilities and arrangements. Its three hostels collectively house 4,000 students, giving us an idea of ​​its massive establishment. The lush green lawns with sprawling flower beds just add to its natural beauty, offering a view for the visitors to capture during their journey across the beach destination.
10. National Defence Academy (NDA) Khadakwasla, Pune
The building is a 3-storey basalt and granite structure constructed with Jodhpur red sandstone. Its architecture features an exterior design comprising a blend of arches, pillars and verandahs, topped by a dome. The foyer has white Italian marble flooring and panelling on the interior walls.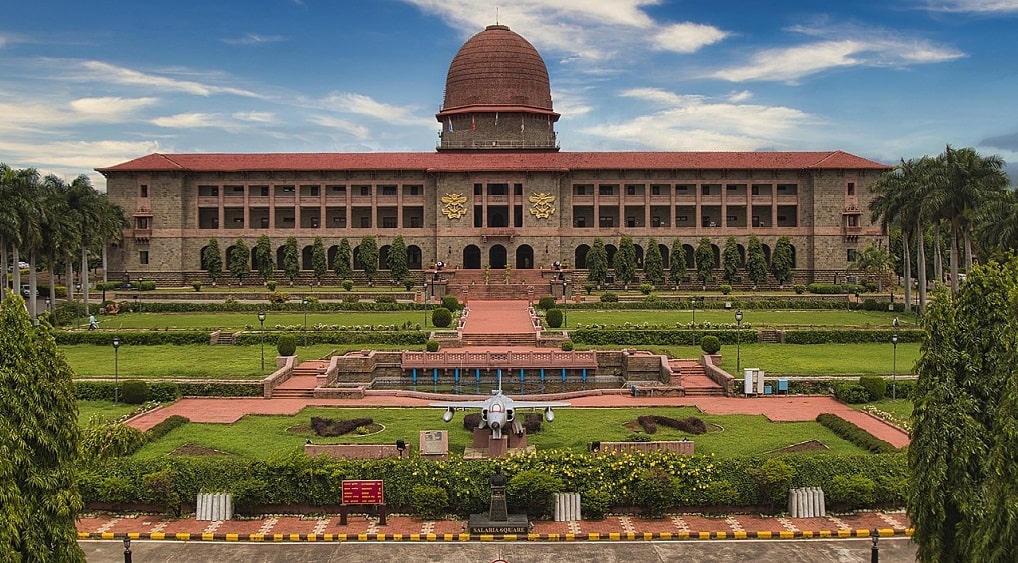 Also Read: Top MBA Colleges in India; Fee, Average Salary, Entrance Exam, Ranking and Application Deadline.