Admission News
Best LAW Colleges in India: Complete information on top law colleges in India.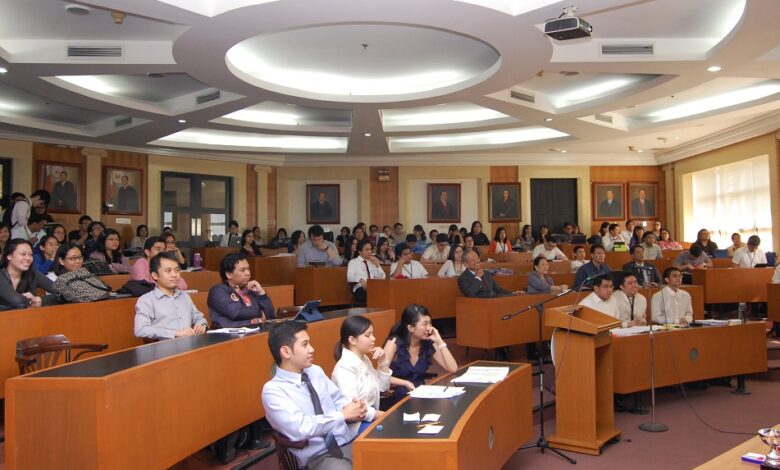 Legal education and law schools are the foundation whose quality, workmanship and solidity determine the beauty, longevity and functional utility of the superstructure of law. But, in India, only a few dynamic and Best LAW Colleges remain islands of excellence amid a sea of institutionalised mediocrity.
Law aspirants can find complete information on Best LAW Colleges in India here. Whether you are seeking to pursue an undergraduate or a postgraduate law degree this list of best colleges in India can help you determine your goal accordingly.
There are a total of 1170 law colleges in India which include 807 private and 363 government colleges. These colleges offer specializations like Corporate Law, Human Rights, Civil Law, Banking Law, etc.
Admissions are mainly done through law entrance exams like CLAT, MH CET Law and LSAT among many others. See what has been the trend in CLAT Cut-off of top colleges for the past years.
The average fees of doing law courses in India is around INR 1-3 lakh per year for bachelors and INR 1-2 lakh per year for LLM courses. National Law School of India University, Bangalore fees is nearly INR 2 lakh per year for LLB and INR 1.26 lakh per year for LLM.
Education quality in the law colleges in India is at par with other law colleges in world. These colleges also provide good placement and career opportunities to graduating students. Students get opportunities to work as Lawyers, Litigators, Members of top law firms, even as Paralegal and Lecturers.
The cost of law school, like the cost of undergraduate programs, has steadily increased over the past several decades, making it more expensive for students to consider a profession in law.
Among the 187 law schools that report tuition and fees data to U.S. News & World Report, the average for annual tuition and fees during the 2018-2019 academic year was $48,869 at private law schools, $40,725 at public law schools for out-of-state students and $27,591 at public law schools for in-state students.
Also Read: Delhi University to start registration process for UG programmes on Aug 2, 2021.
The Bar Council has too many functions — law reform, disciplining lawyers, setting standards — to do justice to a full-time job like legal education. Electoral politics compromises its independence. An empowered committee of academicians, chief justices and eminent lawyers should be set up or an independent, autonomous National Council for Legal Education and Research must be created to bring objectivity into the system
The NIRF rankings of the law colleges in India are released by the Ministry of Human Resource and Development every year. If you are law aspirant and confused about where should you opt for study, this list of NIRF top 10 law colleges in India is just for you.
The NIRF ranks the law colleges in India based on a wide number of factors such as their performance in terms of study facilities, infrastructure, campus recruitment, etc. Candidates looking to pursue 3-Year/5-Year LLB or LLM courses are advised to go through the article below to know about the top 10 law colleges in India .
National Law School of India University, Bengaluru
National Law University, New Delhi.
Nalsar University of Law, Hyderabad
Indian Institute of Technology Kharagpur, Kharagpur
National Law University, Jodhpur
The West Bengal National University of Juridicial Sciences, Kolkata
Gujarat National Law University, Gandhinagar
Symbiosis Law School, Pune
Jamia Millia Islamia, New Delhi
The Rajiv Gandhi National University of Law, Patiala.
Read More: Top Rnked Law Colleges in India