Startups News
Global Entrepreneurship Summit 2022 – An Annual Flagship Initiative by IIT Kharagpur.
The Entrepreneurship Cell, IIT Kharagpur, functioning under the aegis of Rajendra Mishra School of Engineering Entrepreneurship (RMSOEE), presents the Global Entrepreneurship Summit 2022 (GES).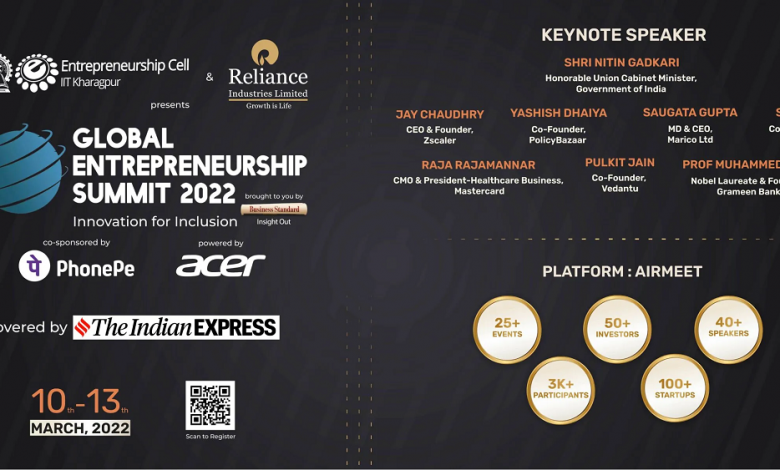 Global Entrepreneurship Summit (GES) 2022 is Entrepreneurship Cell IIT Kharagpur's annual flagship initiative, being one of the biggest inter-collegiate corporate summits in India.
A confluence of aspiring entrepreneurs, venture capitalists, angel investors, new age entrepreneurs, industry experts, academicians and students, GES e-Cell is IIT Kharagpur's unique platform where industry leaders share their insights based on their experiences and entrepreneurial journey. Through showcasing their contribution, startup enthusiasts pledge to take the Indian startup ecosystem to greater heights.
In the 15th edition of Global Entrepreneurship Summit, e-Cell endeavors to provide participants with an experience to discover formulate and evaluate their ideas to help build a self-sustaining and resilient startup ecosystem. Its goal is to inculcate a "risk-taking" mindset among the new generation of innovative thinkers.
Also Read: IIM Kashipur celebrates International Women's Day 2022.
Starting on the 10th of March, GES 2022 is a 4-day online conglomeration of Keynote Sessions, Fireside Chats, Workshops, Competitions, Networking Sessions and Intern-Carnival. GES also consists of Hackathons and Quizzes presenting participants with an exciting opportunity to improve critical thinking and problem solving skills.
E-Cell, IIT Kharagpur invites entrepreneurial enthusiasts from all walks-of-life to join GES 2022, providing them a platform to interact with startup leaders, win exciting prizes and build an enterprising India.
The theme of the Global Entrepreneurship Summit 2022 is "Innovation for Inclusion". This edition aims to tap all those segments including niche ones and encourages participants to solve problems based on creative thinking and innovations, so that the diffusion of benefits targets all sections. Innovations can help in providing products and services, being affordable and accessible, and such can truly be called inclusive innovation that serves larger section of people in the society" 
A clarion call by E-Cell, IIT Kharagpur for participation in GES '22, which is a platform for young minds to interact, enable them to create innovative ideas and empower them to build awareness amongst their peers about the ever-growing startup evangelism.