Job Updates
Pradhan Mantri National Apprenticeship Mela 2022 Starts Today: Learn More About the Eligibility Requirements and Other Details Here.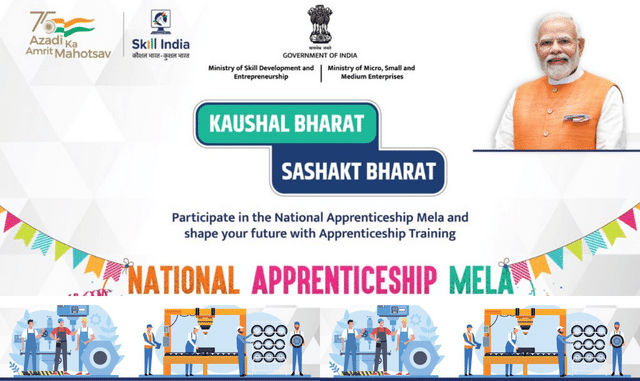 Pradhan Mantri National Apprenticeship Mela 2022: The Pradhan Mantri National Apprenticeship Mela is going to start on July 11, and it is going to be organised by the Ministry of Skill Development and Entrepreneurship. As a step of the Prime Minister's Skill India Mission, it is one of the core ideas that will be put into action across more than 200 different places. This apprenticeship mela is an attempt to broaden and offer additional options and to provide more hands-on training.
According to the ministry, there are currently 188,410 participants who are interested in taking part in the event, and approximately 67,035 apprenticeship opportunities have been made available.
"We expect that the Apprenticeship Mela will create extra job opportunities for talented individuals all around the country," said Rajesh Aggarwal, Secretary of the Ministry of Skill Development and Entrepreneurship.
It is important to note that apprenticeships such as these are necessary for practical training, which is what they aim for here. But it is also important to note that the main purpose of this programme is to recruit more apprentices. This has resulted in a significant impact, which can be seen in the growing number of apprenticeships and the successful implementation across the country.
Eligibility Criteria
To be eligible to participate in the mela, an individual must have completed their education through at least the fifth class. A graduate degree, a diploma from the Industrial Training Institute (ITI), or a skill training certificate are all acceptable forms of participation. Participants in the mela will be eligible to get certifications that have been approved by the National Council for Vocational Education and Training (NCVET). The ministry believes that obtaining these qualifications will make them more appealing to potential employers.
Highlights of the Pradhan Mantri Apprenticeship Mela 2022:
The apprenticeship mela will be held on a monthly basis in order to provide the selected candidates with the opportunity to receive a stipend on a monthly basis in accordance with government standards for the acquisition of new skills.
It is a one-day event that features over a thousand firms, 36 different industries, and 500 different trades.
The participant will have the opportunity to select from more than 500 different crafts, including but not limited to: electricians, mechanics, welders, cosmetologists, housekeepers, and many others.
The completion of the training programme will result in candidates receiving credentials from the National Council for Vocational Education and Training (NCVET), which will increase their employability when the training has been completed.
Apprentices will be able to be hired by small-scale businesses during the Mela as long as the businesses already have at least four employees.
Apprentices will be able to meet the requirements of the government and receive a monthly stipend that will be provided to them through an online mode, according to the ministry.
"The fundamental goal of this project is to encourage enterprises to hire more apprentices while also aiding employers in finding and developing their potential via training and practical skill sets," reads a statement that was issued by the government and made public.
"The apprenticeship programme is the most sustainable approach for skill development, and it is receiving a significant boost as part of the Skill India initiative." Under the National Apprenticeship Promotion Scheme (NAPS), a stipend subsidy was recently deposited into the bank accounts of the first group of apprentices. This was done through direct beneficiary transfer (DBT)."
Also Read: SSC Delhi Police Head Constable (AWO/TPO) Recruitment 2022 Notification Out: All Details, Steps To Apply