Entrance Exams
CBSE Warns Students Against a Fake notice on Term 2 date sheet: Students demand Term 1 results.
As of now, there is no official notification related to the date sheet of CBSE Term 2 Board Exam 2022 for class 10 and 12.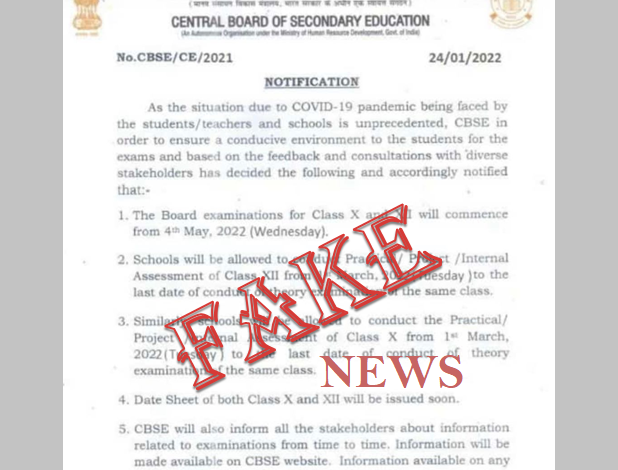 Yesterday, the Central Board of Secondary Education, CBSE on its official Twitter account warned students against fake notices on the date sheets of Term 2 board exams, which have been circulating on social media for some time now.
The fake notice in the form of a circular dated January 24, 2022, stating that the CBSE Class 10 and 12 Term 2 examinations will begin from May 4, 2022, has been termed as misleading and fake by the board officials.
Class 10 and 12 students did not spend much time filling the answer section of the questions seeking Term 1 result.
CBSE concluded the Term 1 board exam on December 22, 2021. It has been more than a month now, and students are eagerly waiting for the Term 1 result. However, CBSE has not released any notice or news regarding the Term 1 result.
Apart from this, the board has also not released any information regarding the term 2 board exams. If we go with the schedule released earlier, CBSE will conduct the 2nd board exam in the month of March-April. That means only two months are left.
Anxious students have been trending #Cancelboardexams2022 on Twitter for quite a few days now. Two crucial questions loom over them, 'When will CBSE release the Term 1 results?' and 'Will CBSE conduct the Term 2 board exams?'
Rumor has it that CBSE will release the term 1 results this week. But, the officials are yet to confirm it. Students are requested to keep an eye on the official website and on the social media handles of Board regarding any updates on the Term 1 results and Term 2 date sheets.
Students can also reach out to their school officials to confirm about any new information that they hear about term 1 result or term 2 exam date sheet.