Campus Connect
Difference between MBA and PGDM Courses: Which is better?
It can be confusing candidates for shortlisting colleges without knowing the difference between Master of Business Administration (MBA) and Post Graduate Diploma in Management (PGDM).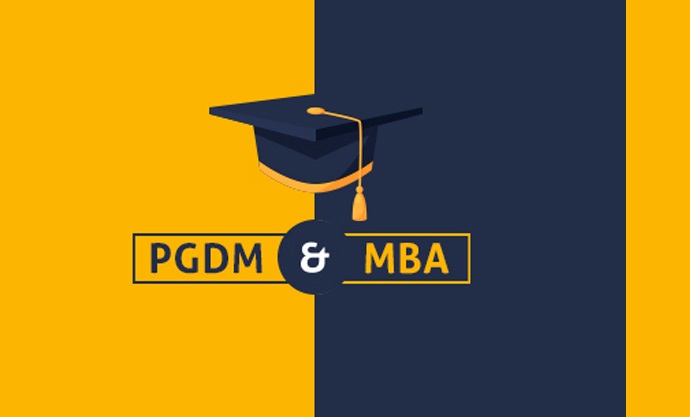 With MBA admissions set to begin for the 2023 season, top B-schools in India have started releasing the MBA/PGDM/PGP admission notification. Indian Institute of Management (IIM) Bangalore conducted CAT 2022 on November 27. Candidates are already gearing up to prepare for the popular management exams and are looking for relevant MBA or PGDM B-Schools/Colleges/Universities
It can be confusing candidates for shortlisting colleges without knowing the difference between Master of Business Administration (MBA) and Post Graduate Diploma in Management (PGDM).
Earlier, only the colleges affiliated to a university could offer an MBA degree. Therefore, colleges such as Faculty of Management Studies (FMS), affiliated to the University of Delhi offer an MBA degree. The autonomous institutes such as the Indian Institute of Management (IIMs), XLRI, MDI, ISB, etc. used to offer only PGDM as they are not affiliated to any university.
But, after the passing of the IIM Act, 2017, the Govt. of India has authorized the IIMs to award an MBA degree for the courses they offer. However, only some of the IIMs have exercised this option and have started offering MBA degrees while others are still offering PGDM/PGPM/PGP.
Let us see what the factors that differentiate the two courses are.
What is MBA?
MBA is a 2 year postgraduate degree course which offers multiple specializations and is recognized by the university to which the college offering the course is affiliated.
The course helps in developing business and management skills among future business leaders and entrepreneurs. MBA degree is awarded to the students who do two year management course.
What is PGDM?
The PGDM course can be 1-year or 2-year long depending on the program selected. However, it is to be noted that PGDM course is at par with MBA course, it should be 2 years long.
The curriculum meets the requirements of the industry and transforms management aspirants into industry-ready management professionals by developing relevant hard and soft skills.
Even though PGDM is a diploma course and not a degree course, it is considered at par with MBA both in India and abroad.
Difference Between MBA and PGDM
The fundamental difference between the two courses is that MBA is a degree course and PGDM is a diploma course. Being postgraduate courses, both MBA and PGDM require students to have completed graduation in any stream with at least 50 per cent and 45 per cent marks respectively.
MBA admission requires candidates to appear for an entrance exam. While Post Graduate Diploma in Management also requires candidates to take an entrance exam, some institutes also allow direct admission on the basis of their own (institute-level) exam.
In both these courses candidates have to go through various rounds like Written Aptitude Test (WAT), Group Discussion (GD) and Personal Interview (PI).
The syllabus of both MBA and PGDM is almost same. However, MBA syllabus norms are university dependent and the syllabus is not revised frequently as colleges are unable to introduce changes without the consent of the university.
On the other hand, PGDM courses are quite flexible as they are offered by autonomous institutes which can bring fundamental changes in the curriculum of the program to make education more effective.
The MBA focuses on developing students' business and technical knowledge with an emphasis on developing the theoretical concepts needed in the business world.
PGDM prepares the students for real life situations so that they can find viable solutions. The curriculum mainly focuses on making the students industry ready and work environment friendly.
MBA courses are relatively cheaper as compared to PGDM courses. As MBA courses are affiliated with universities, grants to the university help offset the cost of the course for the students.
In PGDM courses, the entire cost has to be borne by the students, as most of the institutes do not get any grant. This makes PGDM an expensive program to pursue.
Apart from choosing either MBA or PGDM, the college that the candidate has opted for will play an important role in their placement.
So, while deciding on any course, it is equally important to choose the right college. Students must look at factors like industry interface, practical and live projects, case studies and placement history of the college before finalizing.
To conclude, both MBA and PGDM are highly valued management courses which are considered to be of equal value across the world. The main difference is in the curriculum and fee structure.
Pursuing either of the courses, students can get a well-paying job opportunity, which further depends on their academic performance.
Also Read: 10 New IIMs Have Been Established in the Country Since 2010, Graph Shared by Govt