Headlines
General Bipin Rawat, (CDS) India's top military officer, dies in Tamil Nadu in helicopter crash.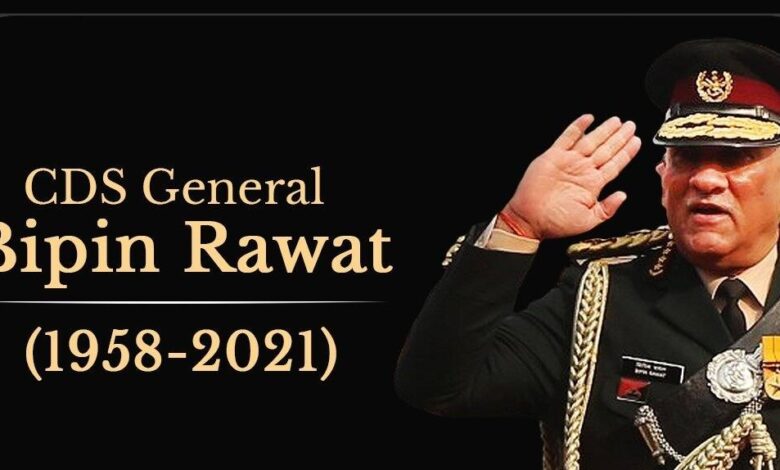 Chief of Defence Staff General Bipin Rawat and 12 others – including his wife Madhulika and 11 armed forces personnel -lost their lives in a helicopter crash in Tamil Nadu's Coonoor on Wednesday. Group Captain Varun Singh, who survived the crash, is presently undergoing treatment.
Those who died in the IAF chopper crash were: Chief of Defence Staff (CDS) Bipin Rawat, Madhulika Rawat (CDS Bipin Rawat's wife), Brig LS Lidder, Lt Col H Singh, Wg Cdr PS Chauhan, Sqn Ldr K Singh, JWO Das, JWO Pradeep A, Hav Satpal, Nk Gursewak Singh, Nk Jitender, L/Nk Vivek, L/Nk S Teja.
General Rawat's death was confirmed by the Indian Air Force late on Wednesday. The helicopter crash had taken place shortly after noon. CDS General Bipin Rawat and the others were on board an Indian Air Force Mi-17V5 helicopter, which took off from the Sulur IAF base near Coimbatore. General Rawat was on his way to Defence Staff College in Wellington to attend an event.
First reports of the helicopter crash came around 12.20pm on Wednesday, following which a search and rescue operation was launched. Shortly after 6pm, the Indian Air Force confirmed that General Bipin Rawat, his wife Madhulika and 11 others had lost their lives in the crash.
"With deep regret, it has now been ascertained that CDS Gen Bipin Rawat, Mrs Madhulika Rawat and 11 other persons on board, have died in the unfortunate accident," the Indian Air Force said.
General Bipin Rawat's death stunned the country. "I am shocked and anguished over the untimely demise of Gen. Bipin Rawat and his wife, Madhulika ji. The nation has lost one of its bravest sons," President Ram Nath Kovind said in a tweet.
Prime Minister Narendra Modi tweeted, "Gen Bipin Rawat was an outstanding soldier. A true patriot, he greatly contributed to modernising our armed forces and security apparatus. His insights and perspectives on strategic matters were exceptional. His passing away has saddened me deeply. Om Shanti."
Defence Minister Rajnath Singh will today make a statement in both houses of Parliament on the helicopter crash in Tamil Nadu yesterday that claimed 13 lives, including those of Chief Of Defence Staff General Bipin Rawat and his wife Madhulika Rawat.