Exam Results
UP Class 10 Board Result 2022: Kanpur Nagar's Prince Patel tops exam with 97.67%.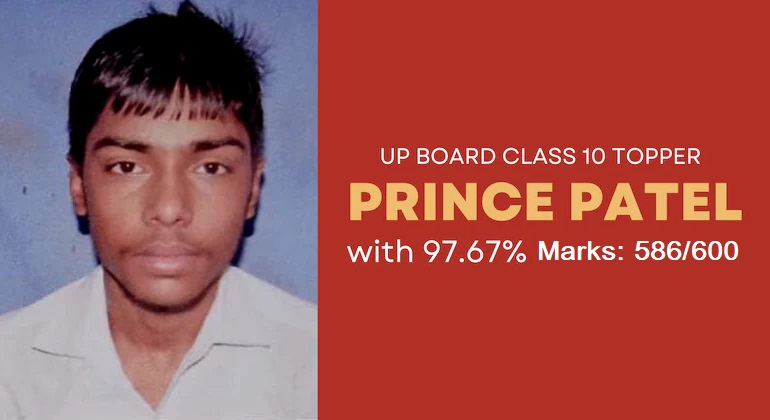 Uttar Pradesh Board (UP Board) of Secondary Education, Prayagraj declared the UP class 10 board result today at 2 pm. All those students who appeared for their secondary examination can check their result on the official websites – upmsp.edu.in and upresults.nic.in.
This year, an overall pass percentage of 88.18 per cent was recorded by the board. Girls performed better with a pass percentage of 91.69 per cent while boys stand at 85.25 per cent. Prince Patel of Kanpur ranked first followed by Sanskriti Thakur of Moradacad.
The Uttar Pradesh Madhyamik Shiksha Parishad (UPMSP) has released the UP Class 10 Board result 2022. Girls have outperformed boys with a pass percentage of 91.69% while boys stands at 85.25%. An overall pass percentage of 88.18 percent has been recorded.
UP Board 10th Result 2022: Who Bagged The TOP 10 Rank
Prince Patel of Kanpur has secured the top position, Sanskriti Thakur of Moradabad stood second. There are a total of 27 students in the top 10. Of these, eight are boys and 19 are girls.
Rank 1: Prince Patel (586/600; 97.67%)
Rank 2: Sanskriti Thakur, Kiran Khushwaha (585/600; 97.50%)
Rank 3: Aniket Sharma (584/600; 97.33%)
Rank 4: Palak Awasthi, Astha Singh (583/600; 97.17%)
Rank 5: Ekta Verma, Atharv Srivastava, Nainsi Verma, Pranshi Dwivedi (582/600; 97.00%)
Rank 6: Sheetal Verma (581/600; 96.83%)
Rank 7: Ishita Verma, Kashish Yadav, Harshita Sharma (579/600; 96.50%)
Rank 8: Ajay Pratap Singh, Raj Yadav, Omshi Singh, Anjali Chauhan, Ashutosh Kumar (578/600; 96.33%)
Rank 9: Shiva, Anurpriya Jain, Roshni Nishad (577/600; 96.17%)
Rank 10: Abhay Patel, Harshita Singh, Astha Tiwari, Nishtha Yadav, Anshu Yadav(576/600; 96.00%)
According to the report of the board member Vankat Shukla, 2781654 students were registered in the high school, who took the exam 2525007. In class XII, 2250742 students are knowledgeable out of 2411035 registered candidates.
Also Read: UP Board 10th Result 2022 Declared: 88.18% of students have passed the board examinations.