Admission News
IIT Roorkee MBA Admission 2023; Application Open, Check Eligibility & Fee.
The MBA program at IIT Roorkee is offered with dual specialization across five specializations. It is a full-time residential programme which is divided into eight terms.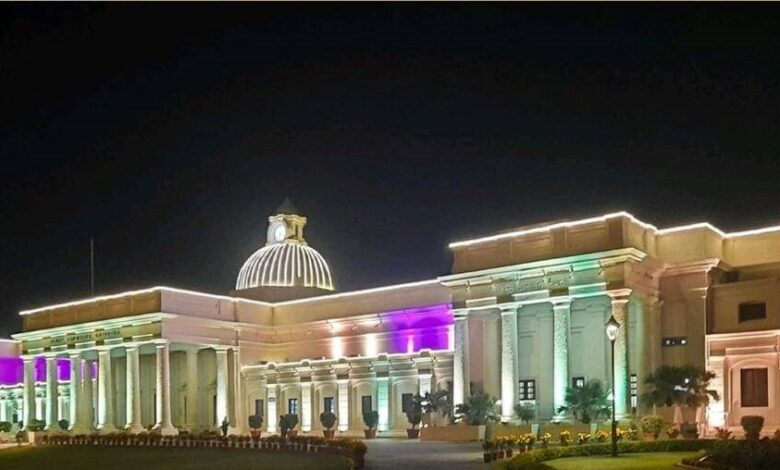 IIT Roorkee MBA Admission 2023: Department of Management Studies, Indian Institute of Technology (IIT) Roorkee is inviting applications for full-time Master of Business Administration (MBA) 2023 programme. Candidates can apply through the official IIT Roorkee website – iitr.ac.in. Interested candidates have to apply within the prescribed time period.
The MBA program at IIT Roorkee is offered with dual specialization across five specializations. This is a full-time residential MBA program and divided into eight terms. The last date to successfully submit the IIT Roorkee MBA application form is January 31. IIT Roorkee MBA eligibility, fees and more admission related details are given below.
Eligibility for MBA admission:
+ Graduation with CAT 2022 score or a professional qualification equivalent to a degree of a University recognized by the UGC, with a minimum of 60 per cent marks (55 per cent for SC/ST/PD) in any discipline. 
+ IIT graduates (admitted through IIT-JEE advanced) with a CGPA of 7.0 or above on a 10 point scale are exempted from the requirement of CAT 2022 score.
IIT Roorkee MBA Admission 2023: Steps to apply
Step 1: Visit the official website of IIT Roorkee –iitr.ac.in.
Step 2: Go to admission and select PG admissions link.
Step 3: Select the link 'MBA Admission 2023-2024 – Apply Online'.
Step 3: Fill the complete application form and register.
Step 4: Complete uploading all required documents.
Step 5: Pay the fee online using the option "Proceed for Payment".
Step 6: After payment download the MBA application form and take a printout for further use.
IIT Roorkee MBA Application Fee:
MBA Program at IIT Roorkee has announced that candidates applying online will have to pay the application form fee to take admission in the two-year MBA program for the session 2023. Please see the table below for application fee structure details.
Categories of Candidates
Application Fee
General /GEN-EWS/ OBC-NC
Rs.1600/-
SC/St/PD
Rs.800/-
Female
Rs. 800/-
International Candidates
SAARC Countries- USD 75
Non SAARC Countries USD 150
The number of seats available in the IIT Roorkee MBA programme is presently 95, with reservations as per the Government of India rules and the total course fee is INR 9.21 lakh. .
IIT Roorkee MBA Admission 2023 Selection Criteria:
IIT Roorkee department of management studies (DOMS) conducts personal interview for final admission to MBA programme. Once the PI is conducted, a Final Composite Score (FCS) is calculated by giving a set weightage to the particular factors listed below.
Graduates in any discipline applying on the basis of CAT 2022 Score
CAT Score: 60%
Personal Interview: 30%
Work Experience: 10%
IIT Graduates admitted through- JEE Advanced Score
100%
The shortlisted candidates for interview will be announced on March 3. The interview will be held from March 13 to March 25 (tentatively), and the results will be announced on April 14.
IIT Roorkee Placements:
As per media reports, the highest international and domestic package offered during IIT Roorkee placements 2022-23 placements was Rs 1.06 crore per annum and Rs 1.30 crore per annum respectively. Apart from this, six international offers were made on the first day of IIT Roorkee Placement 2023.
Moreover, ten students got a salary package of more than INR 80 LPA during IIT Roorkee Placement 2023. Important thing is that, a record 365 offers including PPOs were made. First day of IIT Roorkee Placement 2023.
Top recruiting companies like Adobe, Tata, Qualcomm, Samsung, Goldman Sachs, Flipkart, Microsoft, Intel, Wipro, Oracle, Texas Instruments, Cisco, Amazon, Tower Research Capitals, and JP Morgan visit the campus for recruitment.
Indian Institute of Technology, Department of Management Studies (DoMS) Roorkee has ended its placement drive for the batch 2020-22. During the 2022 placement drive, the highest CTC was 25.8 LPA and the average CTC was 16.8 LPA.
The institute has also released its summer internship placement drive for the 2020-22 batch, in which 107 internship opportunities were offered and the highest stipend was Rs 1.8 lakh, while the average stipend was Rs 50.1 thousand.
Some of the prominent recruiters who participated in the placement drive were- Deloitte, EY, Paytm, Actrea, Natwest, ICICI Bank, HCL, Vedanta, Infosys and etc.
IIT Roorkee Hostels:
IIT Roorkee have 10 boys hostels, 3 girls hostels, 6 married hostels and 1 Co-Ed hostel. Each hostel has a state of art Cyber Cafe, managed by students. All hostels are now fully Wifi connected, meaning that the Internet permeates the space we live in. And who could imagine life without midnight snacks at the Bhawan Canteens, especially after an intense bakar or gaming session? And all this, in peaceful, clean, aesthetic environs, the likes of which very few places in the world can boast.
IIT Roorkee Clubs:
The competitive academic environment and co-curricular activities on campus keep the students on their toes. But everyone needs some time off to rest and recharge. Clubs of IIT Roorkee are the best place for this. Student Clubs: U.G. Club, P.G. The Club, Alaknanda Club and Jawahar Club House have indoor sports facilities including seven billiards and snooker tables, carrom board, chess board, table tennis facilities and a foosball table.
The hobby club also has dedicated sections for activities such as star-gazing, philately and numismatics, and robotics. The clubs also have reading rooms stocked with newspapers and light magazines. Each club has a TV room with a seating capacity of over a hundred people, providing a great environment for watching winning sixes or less interesting soap operas.
Hangout Places at IIT Roorkee Campus
+ IIT Roorkee campus has numerous eating hubs, present at prominent locations.
+ Being located close to the Georgia Cafe, the new lecture hall complex, students' clubs and various dormitories, it is the center of conversation.
+ Nescafe, being located near the sports complex, also sees it being full of students on a daily basis.
+ The Multi Activity Centre has Cafe Coffee Day, an Amul parlor and Saatviko Idea Cafe.
+ There are several eateries throughout the campus such as the Alfar Cafe and various hostel cafes.
+ Each hostel has fresh fruit stalls and canteens which have large seating areas for students to have their meals as well as interact with their fellow students
+ To fulfill the night craving of students campus also have night cafes like Shree Balaji Kotley Bhavan Cafe which operates from 2 PM to 2 AM all at once canteen.
Before filling out the IIT Roorkee MBA application form, applicants need to go through all the information mentioned in the IIT Roorkee MBA admission notification 2023. For more details regarding IIT Roorkee MBA admission 2023 visit the official website of IIT Roorkee-iitr.ac.in.
Also Read: Master Of Science In Comparative Social Change Programme At Trinity College Dublin