Headlines
No Provision in the Law to Accommodate Returning Medical Students from Ukraine: Health Ministry.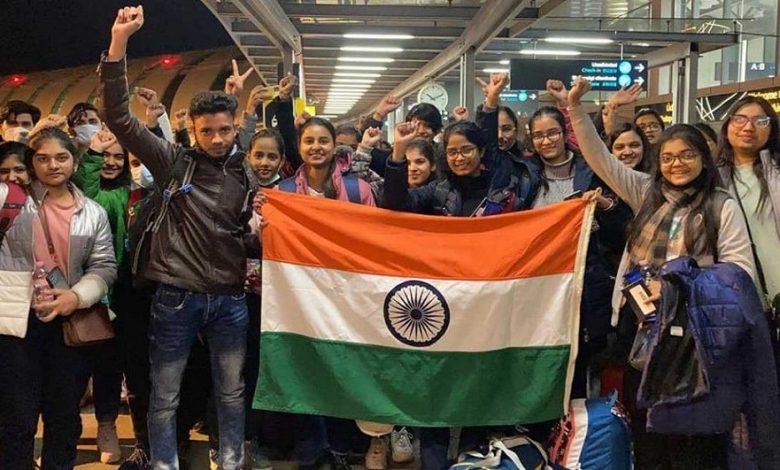 Medical Students from Ukraine: The health ministry informed the Lok Sabha on Friday that the National Medical Commission (NMC) has not granted any authorization to admit Ukraine-returned students for practical training in medical colleges in West Bengal.
In April of this year, the government of West Bengal made the claim that it had found accommodation for all 412 students from the state who had been rescued from Ukraine and placed in medical colleges that were run by the state. However, the Ministry of Health of West Bengal has stated that they will not grant clearance for any kind of accommodation like this.
According to a leading news daily, the Union Minister of State for Health and Family Welfare, Dr Bharti Pravin Pawar, stated in Lok Sabha that there are no such provisions in the legislation to accommodate students from any foreign medical institutes to Indian medical colleges. She stated that "therefore, no approval has been issued by the NMC to transfer or accommodate any foreign medical students in any Indian medical college or university."
Officials from the NMC had previously stated that no special provisions were made to facilitate students pursuing careers in medicine. Those who finish their studies in this manner will not be qualified to apply for the Foreign Medical Graduate Examination (FMGE), which is a mandatory exam for practising licensure in India for medical students who are studying medicine in another country.
The candidate's score on the National Eligibility cum Entrance Test (NEET) is used to determine whether or not they will be admitted to an MBBS programme in India. This includes 85 percent of seats that are reserved for state quotas. In order to sit for the FMGE in India, foreign graduates first need to finish their training at the university where they are enrolled and then do an internship there that takes for one year. In order to obtain permanent registration, this step is then followed by an internship in India that lasts for a period of one year.
However, due to the ongoing war and pandemic, the council has suggested a one-time waiver of the requirement, which would allow students in their final year to finish their practical training in India and then take the FMGE examination. For these students to be eligible for permanent registration in the country, it is necessary for them to successfully complete a two-year internship. The health ministry has not yet decided whether or not they will support the proposal.