MBA
CAT 2021 Exam Day Step by Step guide do's & don'ts on exam day by IIM Ahmedabad.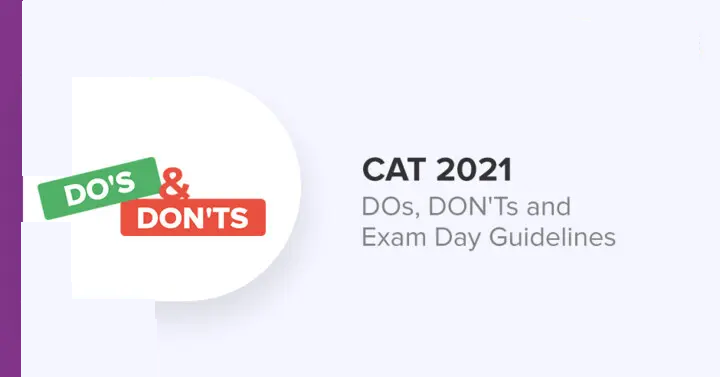 Only a few days remain for the CAT 2021 exam day which is on Sunday November 28, 2021 . In its CAT 2021 Exam Day Guide released , IIM Ahmedabad has categorically advised the aspirants to meticulously follow the CAT exam day do's & don'ts and make sure that you appear in the exam without getting subjected to different type of problems before or during the CAT exam.
IIMs have issued specific do's and don'ts for the CAT aspirants who have registered to appear in CAT 2021 exam in a single day. The exam day do's and don'ts will help you take your CAT exam better and improve your percentile in the exam. You must go through the CAT 2021 Exam day do's & don'ts as issued by IIM Ahmedabad before going to the exam center. The set of instructions contain when to reach, what to carry, what to avoid, how to locate your CAT exam centre, your seating place and what should be your testing room strategy on November 28.
Prof M P Ram Mohan, CAT 2021 exam convener and faculty at IIM Ahmedabad, said, "I request the candidates to view the Exam Day Video and read carefully the Exam Day Guide to understand everything related to exam day."
It is very important that you should know when to reach the CAT test centre, what you should or shouldn't wear, which articles you should gather a day before the exam, how to locate your seat at the CAT exam centre and what should be your testing room strategy during the CAT exam.
CAT Exam Day 10 Important Do's:
1. Carry Your CAT 2021 Admit Card
Hard copy of the CAT 2021 Admit Card is the most important document to be carried on the Exam Day. If not done till now, download your CAT Admit Card from CAT Website, take print on A4 size paper, fix your identical photograph in the given space on it.
2. Carry Your Original Photo ID
Carry with you original photo ID proof as advised in your CAT Admit Card namely – Aadhar card, College ID, Employer ID, Driving License, Passport, PAN Card, Voter ID, Identification Affidavit along with the Admit Card
3. Arrive at CAT Centre in Time
CAT 2021 exam will be held in three slots – Morning, Afternoon and evening on November 28, 2021. The exam time and reporting time at the CAT centre is given here. You must reach the CAT test centre in time otherwise you may not be allowed to enter the CAT 20201test centre.
4. Locate Your Testing Room & Seat: No Display Outside the Test Centre
This year you will not find Display of Seating Arrangement outside CAT Exam Centre. Mapping of 'Candidate Application Number and the Lab Number' will NOT be displayed outside the test venue, but the same will be provided to the candidates individually at the time of the entry of the candidate to the test venue and post their Admit Card and Photo Identification Proof verification. So don't panic and go inside the test centre first.
5. Other Articles You should Bring: Candidate must bring their own Mask, Gloves, personal hand sanitizer (50ml), transparent water Bottle, 2 simple pens. No other items will be permitted inside the test centre
6. Type of Woollens & Other Article Allowed Inside CAT Centre
You can wear Socks, plain Pullovers/Sweaters/Cardigans (without any pockets) inside the Exam lab. Candidates with metal implant, pacemaker, etc. in their body would bring a supporting medical certificate of the same at the Test Centre are also allowed.
7. Use Wash Room Before the Exam
You will not be allowed to use wash room during the exam, so use it before the exam begins. Besides, you are required to maintain silence and remain in Queue keeping social distancing norms during – entry to the Test Centre; frisking process; document verification & biometric verification; and exiting the Test Centre after the exam
8. Ensure to Mark Attendance
Mark your attendance in the Form with signature when asked for in the CAT testing room after biometrics
9. Answer CAT question by Using Mouse
At the Console, use the Mouse to select the right Option as answer for an MCQ and to use the on-screen Keyboard to answer a non-MCQ. Avoid use of key board of the Console as it will lock your computer
10. Non MCQs: Choose to answer first
Answering a Non-MCQ is easier as you will have to simply key in the correct answer of the question in the given space. Besides all the Non-MCQs in each section are no penalty questions, so you lose nothing even if your answer is wrong.
After the Exam, handover the duly signed CAT Admit Card to the Invigilator present in the Exam Lab. Also, return the writing pad with all pages intact after the completion of the CAT Exam to the Invigilator.
CAT 2021 Exam Day 10 Don'ts:
1. Don't Wear Jackets, Jewellery, Shoes
IIM Ahmedabad has released a list of prohibited articles that you should not carry to the CAT exam centre on November 28, 2021. The candidates must not wear jackets, jewellery, digital watch, electronic gadgets, shoes.
Besides, candidates are not allowed to carry mobile phone, bag, wallets at the CAT test centre. If you are wearing or carrying any of these items, you will have to deposit them at Test Centre Entrance Gate. CAT exam centre will not be responsible for any loss of them.
2. Don't Apply Mehndi (Henna) on Palm Side
Do not apply Henna (Mehndi) on the palm side. It is a very important CAT exam day don't for the girl candidates who apply Mehndi regularly on their palms. Applying Henna (Mehndi) on palm side may be a hindrance in getting your biometrics captured.
3. Don't Arrive Late
Do not request entry into the Test Centre after the gates are closed. Make sure to reach at least half an hour before the exam commencement time.
4. Don't Request Bio Break during Exam
Do not request for a bio-break while inside the Exam Lab unless it is a Medical emergency. No bio breaks are allowed during the 2 hours of the CAT exam.
5. Don't Use Computer Key Board
Do not use the keyboard of your console at any point of time. Using it will lock your computer system and your precious time is wasted. Instead use mouse to answer the CAT questions
6. Don't be confused in Using Navigation tools
CAT 2021 has provided the facility to the aspirants to know the status of the question. The Question Palette displayed on the right side of screen will show the status of each question. There will be 4 colour symbols to indicate the status of the question on the right hand side of question-answer screen
Green – Answered question; Red – Unanswered question; White – Question not viewed; Violet – Question marked for review. It will be better to practice on it today with official CAT mock test and understand the process instead of getting confused on the Exam day.
7. No Companion Allowed Inside
Unless you are a PwD candidates and have asked for scribe, none of your friends and relatives accompanying you are allowed to enter beyond the Test Centre gate. Don't ask them to come with you. Even if they come, they will have to go back from the test centre gate.
8. No Cheating or Disturbance
Do not disturb other Candidates nor attempt to cheat or copy answers from others during the Exam. Avoid attempting to appear for CAT 2021 Exam more than once. Candidature will be cancelled if a candidate is found to appear for the test multiple times
9. No Change of Exam Centre/Console
Do not request for change of CAT Test Centre/Exam Lab/Console on the CAT Exam Day.
10. Don't Waste Writing Pad
Do not waste Writing pad pages as it is distributed only once per Candidate during course of the Exam. Do not carry any page from the Writing Pad outside the Exam Lab after the test.