Blog
Delhi University Department of Social Work, launches COVID helpline for visually impaired
The helpline can be reached at 8826248084, 9811819812, 7834873724, 9811699032, 8800127366and 8638993216.
A COVID helpline for the visually impaired has been launched by Delhi Universitity's Department of Social Work, along with the Blind Relief Association, to help them access medical services and ration supplies.
"Depending heavily on the sense of touch, a visually impaired person is much more vulnerable and needs special care/attention to be able to fight the pandemic and living through the widespread fears and unforeseen difficulties resulting due to the second wave.
Adding to this, she or he has to struggle much more to access and avail basic common amenities, assured food, and primary health care facilities," read a notice by the Department of Social Welfare.
Delhi University colleges and departments have been actively involved in providing COVID Helplie support to persons in distress during the past month. While several DU colleges such as Kamala Nehru College, Rajdhani College, and Shivaji College have been running COVID resource helpdesks manned by students and faculty, some colleges are now also vaccination centres open for the public.
Keshav Mahavidyalaya, in association with CDMO North West Delhi, is now a free RT-PCR testing facility from 10 am to 1 pm on Tuesdays, Thursdays and Saturdays. A COVID testing camp for the general public had set up by Miranda House on May 21, in partnership with Tata Medical and Diagnostics.
The helpline can be reached at 8826248084, 9811819812, 7834873724, 9811699032, 8800127366and 8638993216.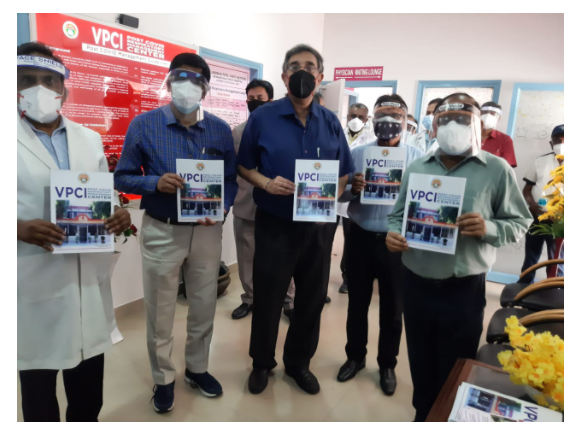 Prof. P. C. Joshi inaugurated Post Covid facility at VPCI which is a state of the arts referral centre for post covid patients having chest complications. Prof. Raj Kumar, Director, VPCI, Prof. Suman Kundu, Prof. Balaram Pani and Dr. Vikas Gupta were also present on this occassion.
About Delhi University:
The University of Delhi is a premier university of the country. Established in 1922 as a unitary, teaching and residential University by the Act of the then Central Legislative Assembly, a strong commitment to excellence in teaching, research and social outreach has made the University a role-model and trend setter for other universities.
Beginning with three colleges and 750 students, it has grown as one of the largest universities in India with 16 faculties, over 80 academic departments, an equal number of colleges and over seven lakh students. Over 500 programmes offered by the University are approved by Academic and Executive Councils, out of which 209 programmes are being considered for NAAC accreditation purpose. The rest being run in colleges are separately accredited. 
COVISELF Self Testing Kit: ICMR has Approved A self testing Covid-19 kit.